Nick Breckons: 1, Mackle: more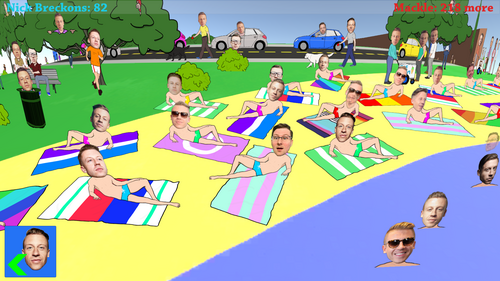 Here's the first major update to Nick Breckons: 1, Mackle: more
The biggest change here is that through the magic of frustum culling I've managed to make the android version actually run at a playable framerate. In addition to that, the android player will no longer have to worry about large objects like trees and buildings blocking their camera view if they move into an object behind one. Large objects will now fade out slightly if they obstruct the camera view.
The full patch notes are below:
Adjusted frustum culling to SIGNIFICANTLY boost performance of android version. Should now run at near 60fps on most modern android devices (instead of the 10-15fps it was getting before).
Added shadows back into the android version now that it has enough performance bandwidth to handle it.
Added a feature to fade out objects that are blocking the camera on Android (objects will still obstruct the view of the player on PC, this is intentional).
Added a version indicator to the home screen so that you can ensure both players are running the same version.
Added an outline to the victory and loss text to make it stand out against the background better.
Added a fun sound effect to the ring of busting.
Made the "Previous body" button disappear while moving so that you can't trigger it while you're already in transition.
Increased speed of camera movement and improved accuracy of camera syncing over the network.
and much, much more!
Files
Nick Breckons 1 Mackle More v1.2.apk
46 MB
Jun 29, 2017
Nick Breckons 1 Mackle more v1.2.zip
38 MB
Jun 29, 2017
Get Nick Breckons: 1, Mackle: more